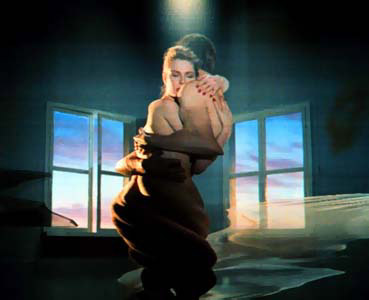 "The Fourth Dimension" 1988


Zbig Rybczynski (pronounced Rib-CHIN-ski)
was born in Poland in 1949. Since graduating from the Lodz Film School in the early 1970s, he has worked as a film director in Europe and the United States. His work has received many prestigious industry awards in the United States, Japan and Europe. The awards include an Academy Award® in 1983 for Tango, an Emmy® for Special Effects in 1990 for The Orchestra, the Prix Italia, the Golden Gate Award in San Francisco and the awards at the Electronic Cinema Festival Tokyo/Montreaux. Among his other numerous awards are three MTV Awards, American Video Awards, Monitor Awards and the Billboard Music Video Awards.

Zbig is a pioneer of the High Definition television technology, and an innovator and experimentator in the technical field. He holds several US patents, most of them for innovative ideas in film and video making, including the "Zbig" software for matting.

Zbig also has a distinguished academic career. He has had teaching assignments as an instructor at the Lodz Film School, Poland (cinematography), at the Columbia University in New York (electronic filmmaking), as a professor of experimental film at the Academy of Media Arts in Cologne, Germany and as a visiting professor at Joshibi University of Art and Design in Tokyo, Japan.

Between 2010-2013, Zbig worked in Wroclaw, Poland, where at the site of the city's historic Feature Film Studio (Wytwornia Filmow Fabularnych) he designed, build, and directed a unique studio --- Audiovisual Technology Center (CeTA). The opening took place in January 2013. CeTA is a novel, state-of-the-art facility for the production of live, multi-layer film images, and an institute for image research.

In mid-2014, Zbig returned to the US and settled on a farm near Tucson, Arizona, where he and his wife, Dorota Zglobicka, are building a new, high technology cinematography studio.

Zbig is a member of the Academy of Motion Picture Arts and Sciences.

You can find here a full version of Zbig's biography and much more.

---
The Oscar award is a trademark of the Academy of Motion Picture Arts and Sciences.
The Emmy award is a trademark of the Academy of Television Arts and Sciences.
All other awards and trade names are registered trademarks of their respective owners.